Tanks & Silos
Loughryan Engineering Services have gained much experience over the years in the manufacturing of tanks and silos.
We have the capability of producing Tanks in Mild Steel and Stainless steel to customer requirements and tank Codes such as EN 14015, API 650, BS 2654 ect.
Some of our past projects are: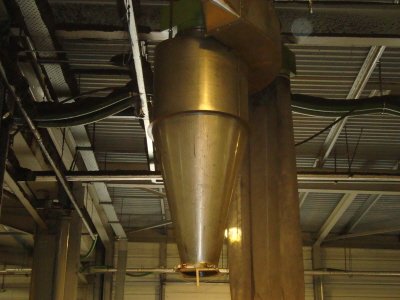 Fabrication and installation of Stainless Steel Dust cyclone
Storage Tank Roof Fabrication
Fabrication of storage tank roofs for the Bord Gas whitegate Combined Cycle Gas Turbine project and ESBI Aghada CCGT project. This work involved production of large sections of roof plates. Welding was completed under controlled conditions and subject to testing. Welders were qualified to EN 287 for this work. Typical tank sizes were 24m diameter, 20m diameter 18.5m diameter and smaller.
Water Tank Fabrication
Fabrication of 2 no. Water buffer tanks for the Moneypoint Flue gas de-sulphurisation project. These tanks were 3.5m diameter by 4m high. The work included x-ray testing of welds. The tanks were water leak tested and finish painted to a C5-M category finish.
Silo Fabrication
This project involved the assembly and welding of large silo in sections. The finished silos would have been too big for transport, so our work involved workshop fabrication and trial assembly of large sections of the silos. Welding was completed except for the separation points. The parts were separated after all other welding was completed, and transported to site on low-loader for re-assembly by others. These silo parts were in the region of 10 ton each. Welding was conducted under controlled conditions with welders qualified to EN-287.
Stainless Steel Tanks for Waterford Glass
Fabrication and installation of 3 no. 5.5m diameter x 5m high water treatment tanks for Waterford Crystal, Waterford.
Enquire about Tanks And Silos »